Looking for Trauma-Informed Training and Resources?
Purchase books and other trauma-informed resources
Participate in one of our training or events
Learn about the impact of Storiez in diverse settings
Learn about trauma, resilience, and narratives
Trauma has a significant impact on children, teenagers, and adults. Many of the challenges that social workers, counselors, and psychologists support clients in addressing stem from individuals' difficulty managing trauma-related symptoms, memories, and feelings. Exposure to trauma results in significant consequences, including fragmentation of the self, relational impairments, sense of foreshortened future, and emotional lability.
Best practices and common factors amongst evidence-based treatments speak to the importance of the trauma narrative in helping trauma survivors heal.
Despite the importance of the narrative in the healing process, there are minimal resources to direct clinicians as they support clients in developing their trauma narratives.
Storiez uses trauma literature and research to inform the development of strengths-based, culturally competent, engaging resources, and training programs. These resources and training have been used by clinicians in a variety of settings, including community arts programs, outpatient therapy centers, residential treatment and juvenile justice facilities, schools, prisons, inpatient and partial hospitals, and community-based programs.
Storiez resources support trauma survivors in creating, voicing, and honoring their narratives and expressively processing past experiences. Storiez offers five published guides, four children's books, and Feelingz resources.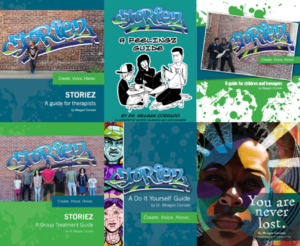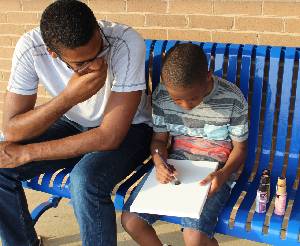 Storiez is excited to offer training to clinicians, community partners, and trauma survivors. Explore our training options and identify which training program meets your needs. Trainings are offered in-person and virtually.
Learn about the importance of creativity, voice, and honor in the Storiez process.
Many factors distinguish Storiez from other interventions. Check out this video for specific factors that differentiate Storiez from other trauma-informed approaches.
This video features a portion of Dr. Meagan Corrado's keynote presentation, "Healing through Storiez: A Therapeutic Approach," during the 5/5/18 conference at UPenn.